Perdue Farms' Ultimate Guide to Grilling Chicken
Grilled chicken: It's a dinnertime staple once the summer months roll around. Whether you need a refresher or a full-on tutorial, this primer will help you hone your technique. Perdue Farms' Corporate Executive Chef Chris Moyer, CEC,CRC, walks you step by step through the grilling process, from properly seasoning your grill and marinating chicken to cooking up moist, juicy and delicious chicken breasts, thighs, wings and drumsticks every time. Note: Instructions for gas grills.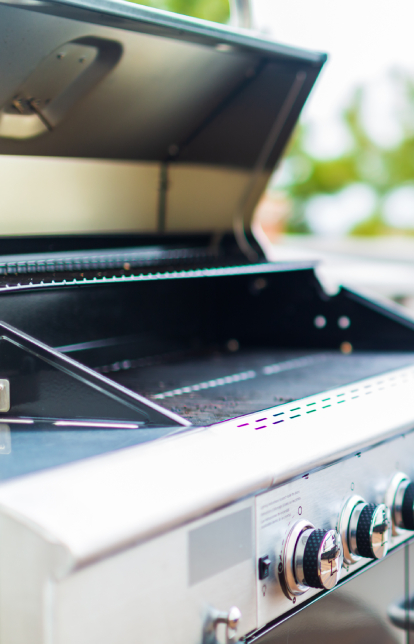 How to Prepare Your Gas Grill
Grilling the tastiest, tender chicken begins well before you place product on the grill. The secret to perfectly grilled chicken starts with grill prep.
Follow these steps:
Preheat and clean the grill: Turn the grill on high heat, close the lid and let set for approximately 8 to 10 minutes. Preheating the grill allows the grates to heat through and burns off stuck-on particles. Once preheated, lift the grill lid, and using a grill brush, scrape grates clean. Close lid and allow the grill to heat back up.
Season the grates: Fill a small bowl with olive or vegetable oil. Dip a clean kitchen rag in oil, being sure not to oversaturate, and, using a pair of extra-long stainless steel tongs, run rag along grates.
Monitor temperature: Using both the grill's built-in lid thermometer and an oven thermometer placed inside the unit, keep tabs on the grill temperature, ensuring that readings are identical.
Establish direct and indirect cooking areas: Adjust the flame of each burner to create areas of high heat (where protein can quickly sear) and low-to-no heat (where protein can slowly cook).
Organize tools and grilling utensils: While the grill is heating, take time to assemble necessary cooking tools, accessories and serveware, paper towels, plastic wrap or aluminum foil and any necessary basting sauces, salt and pepper and seasonings. Note: Choose a high-quality digital meat thermometer, which unlike analog models, does not require calibration or produce false readings.
How to Season Chicken
Seasoning lends flavor as well as helps retain moisture as the chicken cooks. Here's a good rule of thumb: Marinate chicken for two to four hours per inch of thickness. For larger, more dense pieces, consider marinating overnight. Note: For an overnight process, avoid high-acid solutions, as acid denatures protein and may toughen thinner sections of chicken.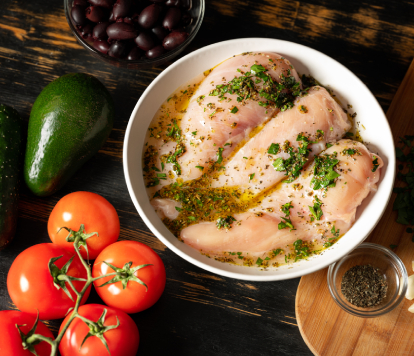 Choose Your Own Adventure: DIY Chicken Marinade
The best grilled chicken marinade is a mixture of four elements:
15% Oil (1.2 oz.)
Low in flavor, olive or vegetable
5% Acid (.4 oz.)
Orange or lemon juice, your favorite vinegar or a cultured dairy product (yogurt)
40% water or unsalted stock (3.2 oz.)
40% herbs and spices (3.2 oz.)
Garlic, ginger, herbs, pepper and salt (preferable large, fresh grind)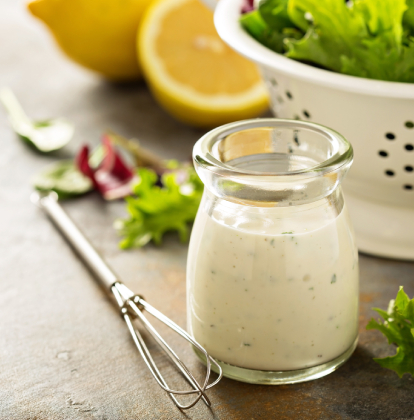 Kid-Friendly: Chicken Marinade That's a Crowd Pleaser
Combine a packet of ranch-flavored dressing mix with 1 to 2 tablespoons of olive oil and 1 tablespoon of white balsamic vinegar. This will create a marinade for 1 pound of chicken. Follow instructions listed below. To turn up the heat, add cayenne or chili pepper, or a dash or two of your favorite hot sauce.
Whole bird: Wearing disposable food service gloves and following food safety practices specific to raw chicken, evenly distribute seasoning on the outside of the chicken, inside the cavity and underneath the skin. (Butter or olive oil may also be placed underneath the skin to maintain moisture.)
Chicken pieces: Place in a large zipper storage bag with marinade and seasonings. Squeeze out as much air as possible (which helps to push seasoning into the meat), seal the bag and place it in the refrigerator. Halfway through the marinating process, shake the bag to redistribute seasoning and thoroughly coat all pieces.
Thirty minutes prior to grilling, remove chicken from the solution and pat dry. Transferring chicken directly from marinade to the grill will cause flare-ups. Wetness also cools the grates and results in sticking.
Grilling a Whole Chicken
We can't think of any better way to celebrate a lazy summer Sunday! Cooking a whole chicken on the grill takes time, patience and a willingness to closely monitor both the temperature of the grill and the chicken meat.
Beer Can Method
Turn grill on medium heat. Close the lid and preheat until the grill registers 350 to 375 F.
Pat chicken dry, open a can of pale lager or pilsner, pour half out and insert, tab side up, in the cavity of the chicken. Place chicken in a heat-proof pan to catch drippings. Open the grill lid and place chicken on the grill over indirect heat. Close lid.
As the chicken cooks, the beer will boil, evaporate and form a steam that helps to cook the interior of the bird.
Check several different areas of white and dark meat for doneness. For bone-in chicken, grill until a meat thermometer registers at least 180 to 185 F, which allows the marrow to cook through and meat juices to run clear.